The BESC colours are black and white with an orca emblem.
The Orca has been part of BESC since the club was established in 1948.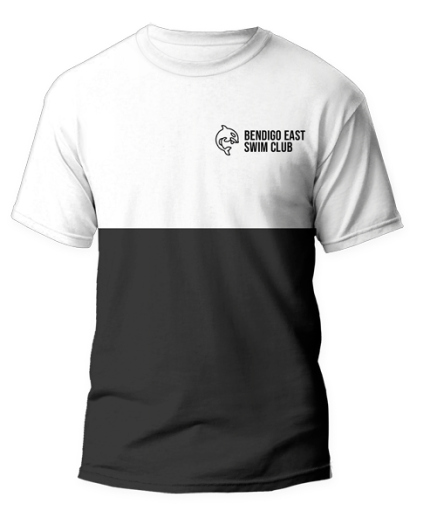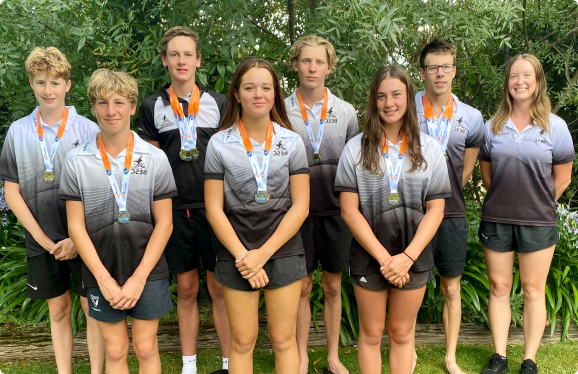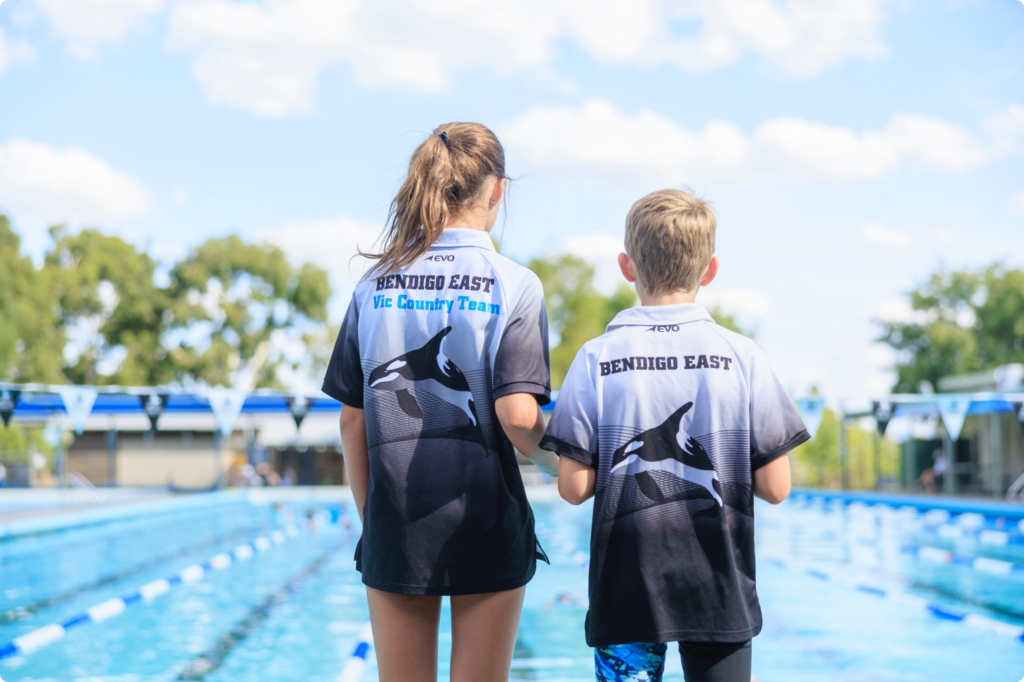 During event days and meets, competitors must attend wearing the BESC caps and BESC uniform polo shirts. This is particularly important for official medal presentations.
Singlet tops must not be worn to any championship events, Bendigo East Swim Meets or meets held at the Melbourne Sports and Aquatic Centre (MSAC).
Order new uniform by filling the form below or you can also use the Store function on TeamAapp . The Uniforms Officer may arrange a convenient time to meet at the pool for collection or to view the items.

New Member Uniform form
Email to uniforms@bendigoeastswimmingclub.com
Essential For All Swimmers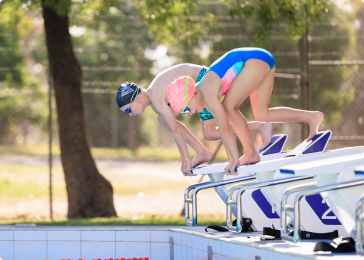 Swimming Trunks/Jammers and Costumes
It is important for all swimmers to wear swimwear that allows them to move comfortably in the water.
Swimming trunks or jammers are fine for boys, but not baggy shorts as these drag in the water.
Swimming costumes are fine for girls, preferably without frills as these also cause drag and inhibit the swimmers.
The colour and pattern are left to the swimmer's personal preference.
Swimwear may extend to the top of the swimmer's knee. Boys' swimwear should extend no higher than the bottom of the navel.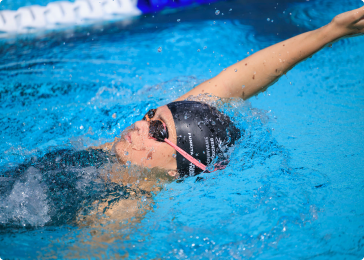 Swimming Goggles
These are essential. Very few swimmers can train without goggles as they protect the eyes from some of the necessary chemicals in the water.
They also aid good vision so are necessary for tumble turns.
Always have at least two pairs available.
Swimmers who are long or short sighted may benefit from optical goggles with prescription lenses to allow them to see the coaches, training session whiteboards and timing clocks more clearly.
The style and colour of googles is left up to the swimmer's personal preference.
Swimmers may find that dark and/or mirrored lenses reduce visibility in some pools and they may benefit from lighter or clear goggle lenses.
Essential For All Junior Squad Swimmers and Upwards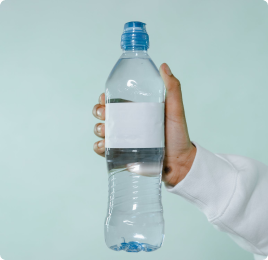 Drink Bottle
To keep hydrated during training. 700ml capacity or higher. Plastic rather than metal so it floats.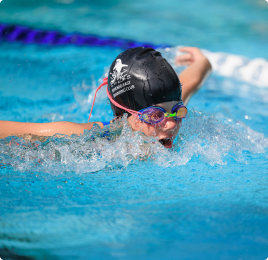 Swimming Cap
Keeps your hair under control and helps to identify club swimmers, but most important of all it creates less resistance so you swim faster. BESC has two types of silicone cap – regular and dome.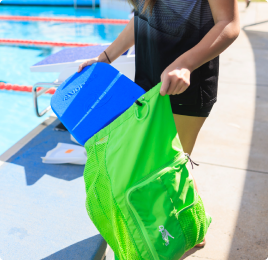 Kick Boards
Held by hand, they support the arms and upper body whilst propulsion is ensured by a strong leg kick.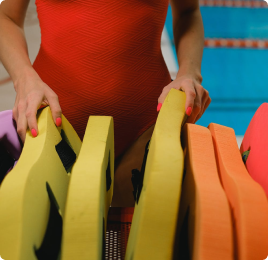 Pull Buoys
These are gripped between the legs and ensure the buoyancy of the legs so that movement of the body comes from the action of the arms and therefore develops upper body strength.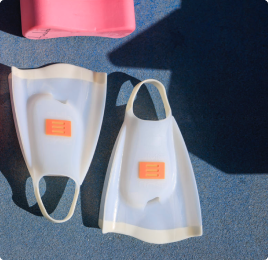 Fins
Give rapid propulsion and strengthen ankles and legs. Used in developing good butterfly technique. The fins should be short, not the longer style of flippers used for scuba diving. Fins are made of rubber and swimmers may prefer to wear fin liners or trainer socks inside the fins to reduce friction.
Training Aids for Senior Swimmers
Check your squad description to see if these are needed in your squad.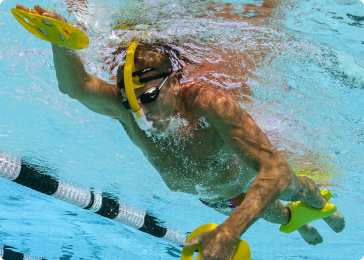 Hand Paddles
Excellent for good hand tracking underwater and their use increases arm and shoulder strength.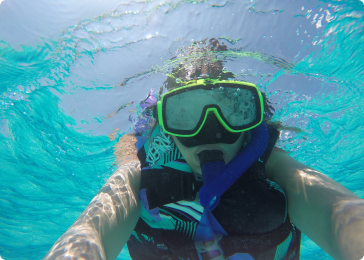 Snorkel
Breathing aid.
Should extend up the middle of the swimmer's face to the to of their head, not around the side.
Allows the swimmer's head to remain still and in the water while executing training drills.
Can take a bit of getting used to! Swimmers may wish to use a nose clip with their snorkel initially.
Additional Equipment For Competitions
If you are swimming at Meets, it is recommended that you have the following additional equipment.
Poolside Bag
Small bag to take onto poolside for keeping the essentials safe, e.g. your goggles, hat and snacks. Pools are often busy with limited space, so this bag needs to be small.
T-Shirt
A lightweight T-shirt to keep you comfortable on poolside. The BESC club top is preferred at all competitions. 

This can be ordered from the Club Shop on TeamApp or fill the form below.

New Member Uniform form
Email to uniforms@bendigoeastswimmingclub.com
Race Suits/Jammers
These are optional and can be very expensive. Younger swimmers will tend to see a greater benefit from technique practice and improvement rather than the use of specialist suits. It is strongly recommended that parents and swimmers seek advice face-to-face with suppliers, such as Funkita, who often have stalls set up at Open Meets, because they will ensure you get the correct swimwear and, critically, in the correct size. Race suits should always be FINA Approved.
Shorts or Leggings
To protect swimwear from damage on the poolside tiles. Particularly important if you have an expensive race suit. Swimmers will be spending a lot of their time at competitions sitting on poolside and shorts/leggings will help costumes last longer.
Want to apply for A trial?
To register as a new swimmer, please click on explore more.
To register as a new swimmer, please
click on explore more.