Bendigo East Swimming Club greatly values our sponsors,
community partners and supporters.
Our club benefits enormously from the support of the greater Bendigo region public sector and business community. We also encourage club members to get behind the club in a sponsorship role by sponsoring individual events at our two club meets each year.
BESC encourages our members to support the many businesses and community groups who support our club. We advertise our sponsors on our Facebook page and TeamApp so all our members can find these organisations easily.
Special thanks for our support community:
Each BESC event welcomes new sponsors.
regular SWIM MEET
sPONSORS
Bakers Delight Lyttleton Terrace, Marketplace and Kennington
Bendigo Flying Club
Blue Bird Patisserie
Coles Supermarkets
Harvest
IGA Supermarket Kennington
Glamour & Co
Honeyeater Hair Salon
Max Bakery
Oishii on Wheels
Rebel Sport
Sandhurst Ridge Winery
Sportspower
The Dispensary
The Brewhouse
Wine Bank
Woolworths Supermarkets
Marketing &
public relations
Thank you to
Club Website – Raak
Club and website photography – Justin Castles
Aquatic Centre murals and signage – WJ Franklin
Kiosk collaboration with Bendigo Community Health Vic Kids Eat Well Initiative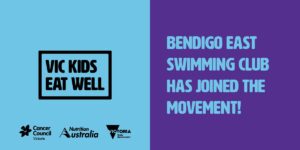 Please Support the Sponsors
that Support Our Club